Edging
Edging creates clean definition between your lawn and your planting beds. It's also used to create unique planting bed designs by defining a transition between materials. We install a variety of styles and will help you select edging to fit your project, your style, and your budget.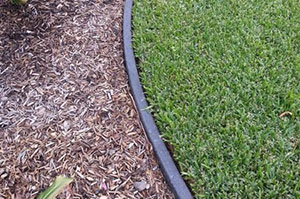 Plastic Edging
Plastic edging is an economical way to define your landscaping beds. Its low visibility allows your plants to take center stage. We are proud to install Valley View edging. It is made of medium density polyethylene with a UV inhibitor. This product is made in the USA of recycled materials.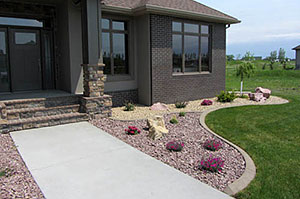 Curb Edging
Continuous concrete curb edging adds dramatic style to your planting beds, creating beautiful definition to your landscape design. With an embedded galvanized steel cable and fiber mesh mixed in the concrete, it is a long-lasting product that will add beauty to your landscaping for many years. The long lasting, low maintenance features of curb edging make it one of our most popular products.
Our curb edging is installed by CurbMaster of Fargo/Moorhead. There are three profiles and many colors to choose from. Stamped patterns and a second color release are also available. For more information see www.curbmasternd.com.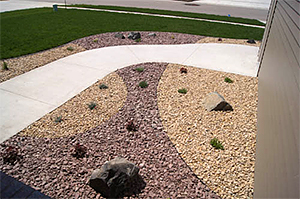 Aluminum & Steel Edging
Long lasting with minimum visibility, aluminum creates a border for your planting beds with almost no visual interference. It is flexible enough to follow curved designs and can also be installed in straight lines. It is an excellent choice for dividing multiple materials in a planting bed when you want a nearly invisible divider. We are proud to install Sure-loc and Curve-rite aluminum edging. These products are made in the USA of recycled materials.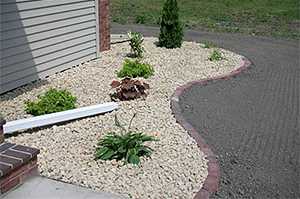 Paver Block Edging
Paver block edging is a traditional way to edge your planting beds. You can choose between i-con, bullet or brick shaped block and there are many colors to choose from. We install Barkman and Rochester products.
Contact us today for a free quote!